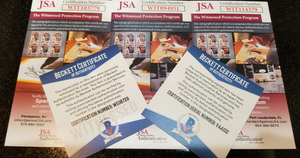 The Importance Certificates of Authenticity on Autographs
When you're considering purchasing an autograph, it is important to ensure that you're getting the real thing. Unless you personally see the athlete sign your collectible, you have to trust in one of the authentication services. Even when you see the autograph signed in person, you'll still want to have your autograph authenticated to make sure that your autograph's value stands the test of time.
Even with a photograph of the athlete signing the piece of memorabilia, your word will still be questioned which can be frustrating. It may be unfair, but it's not your fault. The autograph industry has been wrought with fraud since the early days of eBay. When buying or selling autographs, the certificate of authenticity can add the most value to your collectible autograph.
Over the years, there have been hundreds of autograph certification providers, but here are the 6 most trusted and respected certificates of authenticity in the industry due to their long-standing reputation in the collectible autograph industry. (in no particular order)
PSA - Professional Sports Authenticator Certificate of Authenticity

Autograph Authentication & Grading Services. PSA is the largest and most trusted autograph authentication service in the world. With over 35 million collectibles certified, PSA authenticates a vast array of signatures, ranging from sports to history and entertainment.
Beckett Certificate of Authenticity

Beckett Authentication Services was established in November of 2016 to provide an autograph authentication service that will be the most trusted and respected in this industry. Led by the two top autograph authenticators in the world, Steve Grad and Brian Sobrero bring their years of autograph experience to form the newest member to the Beckett team. BAS is now accepting submissions through the mail or in person at one of the many events they will attend each year.
JSA - James Spence Authentication Certificate of Authenticity

JSA has accumulated an impressive exemplar database of nearly 700,000 files, which are used by autograph authenticators to accurately assess the thousands of autographs submitted daily. JSA's exemplar file is the most important tool JSA utilizes when authenticating any autograph submitted through their service.
Schwartz Sports Certificate of Authenticity
Schwartz Sports Memorabilia, Inc. is a full-service sports memorabilia and marketing company. They are the exclusive autograph representative for Barry Sanders and several others and participate in hundreds of public and private signings each year. With over 40 years of combined industry expertise, you can trust their items to be authentic and high-quality.
Steiner Sports Certificate of Authenticity
Steiner Sports is the leading producer of Certified Authentic hand-signed collectibles. They are the official collectibles company of the New York Yankees, Boston Red Sox, Dallas Cowboys, and Chicago Cubs in pros, and in college sports, Notre Dame, Alabama, and Syracuse. Steiner has exclusive partnerships with Andy Pettitte, Tony Hawk, Derek Jeter, Eli Manning, Mariano Rivera, Paul Pierce, and others
TRISTAR Productions Certificate of Authenticity
TRISTAR has taken an active role in the forefront of the industry by establishing its own state-of-the-art authentication system, helping to ensure that the memorabilia delivered to fans is guaranteed authentic. TRISTAR serves as the exclusive autograph agent for several notable athletes, including Houston Astros Hall of Famers Craig Biggio & Jeff Bagwell, seven-time Cy Young Award winner Roger Clemens, Chicago Cubs Hall of Fame second baseman Ryne Sandberg, and more, in handling all of their public and private autograph signings. The TRISTAR signing roster is a virtual who's-who in the world of sports. With more than 300 signings annually with the top sports superstars of yesterday and the brightest stars of today, over 250,000 authentic autographed items are produced annually at TRISTAR signings.
All autographs from FootballCollectible come with one of these top autograph authenticators' certificates of authenticity. Most of our collectibles show a photograph including the Certificate of Authenticity on the product you are purchasing. We do have a few holograms and COAs on signings we have held ourselves, but we stopped printing our own in 2016. You may see some of our COA's on older items from 2010-2016.
---